For a number of Halloween Party game ideas visit: 13 Pumpkin Avenue

Do you need decorating ideas for your Halloween Party? Go to: Halloween Party Ideas

Some ideas for an adult Halloween Party can be found at: Party America


How about some drink ideas:
A good first choice is a Sangria Punch ("Sangria" is the Spanish word for "Blood"), and here's a "kicked up" version:
1 bottle quality rioja
2 tablespooons caster sugar (superfine sugar)
half orange, cubed or sliced
1 lemon, cubbed or sliced
handful of fresh berries of your choice
30ml brandy Spanish brandy, such as Domecq (2 tablespoons or about 1 oz.)
30ml Cointreau (2 tablespoons or about 1 oz.)
235ml soda (a scant cup)
ice cubes to half fill jug
Pour wine into a large jug. Add sugar and mix well. Stir in fruit, brandy and Cointreau. Chill overnight until ready to serve. Just before serving, add the soda and ice cubes, stirring gently. When pouring into glasses, leave fruit and ice in the jug.

These recipes are from Atomic Bodyslams to Whiskey Zippers: Cocktails for the 21st Century, by Hollywood bartender Adam Rocke. If you like this assortment, be sure to check out Rocke's other 996 recipes, organized by potency with chapter titles ranging from Low Toxicity Fun and Party Drinks to I Drank What? Published by Surrey Books, this book is available in most bookstores or order it directly at 800/326-4430.
1-1/2 oz. Malibu rum
1-1/2 oz. white creme de cacao
1 oz. grapefruit juice
1 oz. orange juice
Highball; shake with ice, strain over ice.
2 oz. vodka or gin
1 olive
1 sugar cube
Tonic water
Collins or Highball, a simple vodka or gin and tonic. Tie olive to sugar cube with piece of string or use toothpick. When sugar dissolves, the 'dead baby boy' will float to the top.
2 oz. vodka
1/2 oz. dry gin
1/2 oz. dry vermouth
1 tbsp. tequila
Pinch of salt
2 oz. tomato juice
Old Fashioned, shake with ice, strain over ice.
1/2 oz. vodka
1/2 oz. gin
1/2 oz. tequila
1/2 oz. light rum
1/2 oz. dark rum
1/2 oz. dry vermouth
1/2 oz. sweet vermouth
2 tbsp. grenadine
1 tsp. lemon or lime juice
Cola
Collins, pour over ice, fill with cola, stir. Add 7 cherries.

From:
also called Simon's Brain
1 oz. each vodka, gin, and tequila
1 tsp. Bailey's Irish cream
2 drops grenadine
1 olive
Old Fashioned, shake "whites" with ice, strain, add olive, Bailey's, and grenadine.
2 oz. green creme de menthe
1-1/2 oz. vodka
1/2 oz. tequila
1 tbsp. blackberry brandy
Old Fashioned, shake with ice, strain over ice.
1-1/2 oz. Jagermeister
1/2 oz. dry gin
1/2 oz. vodka
2 cocktail onions
Highball, pour over ice, stir. Add onions.
1 oz. light rum
1 oz. lime-flavored vodka
1 oz. white creme de cacao
1 tbsp. Anisette
Old Fashioned; shake with ice, strain over ice.
Even zombies avoid this elixir.
1 oz. scotch
1 oz. brandy
1/2 oz. tequila
1 tbsp. sugar syrup
1 tsp. shredded lemon pulp
Coffee
Hot Mug, pour ingredients, fill with hot coffee, stir. Whipped cream garnish. Float lemon pulp.
More effective than Holy Water on vampires!
1 oz. 151-proof rum
1/2 oz. gin
1/4 oz. peach schnapps
1 tbsp. honey
Hot tea
Hot Mug, pour 3/4 full with tea, add ingredients, stir gently. Add lemon slice.
And for the Designated Driver
3 oz. cranberry (or cranapple) juice
3 oz. tomato juice
1 tsp. Tabasco sauce
1 tsp. lemon juice
2 dashes black pepper
Dash salt
Collins, pour over ice, stir. Lemon and parsley garnish.
And if you want a little food with that drink, try this:
Serves 8 to 10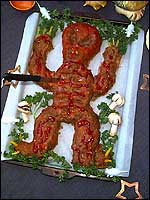 Use a food processor to whip this up in a snap. Follow the steps below and you won't need to rinse the food processor bowl in between steps. After each step, empty the contents of the bowl out and set aside.

Process enough bread to make:

Process until finely chopped then set aside:
1/4 cup parsley with
2 cloves garlic (more if expecting vampires)
Process each separately until coarsely chopped (not too fine, mixed texture is good), then place together in large mixing bowl :
3 stalks celery
3 carrots
1 onion
Melt in a large frying pan over medium flame:
1 tablespoon butter
1 tablespoon olive oil
Add the celery mixture and saute until soft and onions are translucent. Remove from heat to cool.

In the large mixing bowl, mix in the remaining ingredients below, adding the parsley and garlic and the breadcrumbs. When the vegetables have cooled, add them to the mixture.

Note: the only way to really mix this up well is to use your hands -- squoosh, squoosh!

1 lb. ground turkey
2 lbs. lean ground beef
1 lb. ground pork sausage
1/2 teaspoon thyme
3/4 teaspoon oregano
3 eggs
1-1/2 teaspoons salt
1 teaspoon pepper
1/2 teaspoon paprika
2 teaspoons Worcestershire Sauce
3 teaspoons lemon juice
2 - 3 tablespoons heavy cream

Shape the meatloaf into a Zombie on a large baking sheet or pan with low sides; placing a sheet of aluminum foil in the bottom helps for easy clean up. Lightly grease the surface before adding the meatloaf.

Apply ketchup decoratively before baking.

Bake in a preheated 350 degree F oven for 1 hour to 1 hour, 10 minutes. Let cool before decorating.

Decorate the Zombie with any of these materials:
ketchup
mustard
fresh parsley
red, orange, and/or yellow bell peppers
other decorative foods like slivered blanched almonds, olives, cherry tomatoes, etc.
Hints:
The meatloaf will give off lots of juices as you cook it. For a crisper presentation, we used a separate, clean baking sheet, covered it with parchment paper, then carefully used a large spatula to transfer the cooked Zombie to the clean sheet. The appendages (legs and arms) broke at the joints, but that's not important and can either add effect, or be covered up with ketchup.

If not serving immediately, cover the whole tray and place the Zombie in the refrigerator to avoid contamination (remember: keep hot foods hot and cold foods cold to prevent food poisoning). You can reheat it on the same sheet with the parchment paper. Then decorate just before serving.

Variation: Ghost Meatloaf

Form meatloaf into ghost shape and cook as usual. Remove meatloaf from oven and let cool slightly. "Frost" meatloaf completely with cooked mashed potatoes, making surface as smooth as possible. Use pitted black olives for eyes and mouth.